What's New
ixgben driver enhancements: The ixgben driver adds queue pairing to optimize CPU efficiency.
VMXNET3 enhancements: ESXi 6.7 Update 3 adds guest encapsulation offload and UDP, and ESP RSS support to the Enhanced Networking Stack (ENS). Checksum calculations are offloaded from encapsulated packets to the virtual device emulation and you can run RSS on UDP and ESP packets on demand. UDP RSS supports both IPv4 and IPv6, while ESP RSS supports only IPv4. The feature requires a corresponding VMXNET3 v4 driver.
NVIDIA virtual GPU (vGPU) enhancements: With vCenter Server 6.7 Update 3, you can configure virtual machines and templates with up to four vGPU devices to cover use cases requiring multiple GPU accelerators attached to a virtual machine. To use the vMotion vGPU feature, you must set the vgpu.hotmigrate.enabled advanced setting to true and make sure that both your vCenter Server and ESXi hosts are running vSphere 6.7 Update 3.
vMotion of multi GPU-accelerated virtual machines might fail gracefully under heavy GPU workload due to the maximum switch over time of 100 secs. To avoid this failure, either increase the maximum allowable switch over time or wait until the virtual machine is performing a less intensive GPU workload.
bnxtnet driver enhancements: ESXi 6.7 Update 3 adds support for Broadcom 100G Network Adapters and multi-RSS feed to the bnxtnet driver.
QuickBoot support enhancements: ESXi 6.7 Update 3 whitelists Dell EMC vSAN Ready Nodes servers R740XD and R640 for QuickBoot support.
Configurable shutdown time for the sfcbd service: With ESXi 6.7 Update 3, you can configure the shutdown time of the sfcbd service. You can set a shutdown time depending on the third-party CIM provider that you use, or else use the default setting of 10 sec.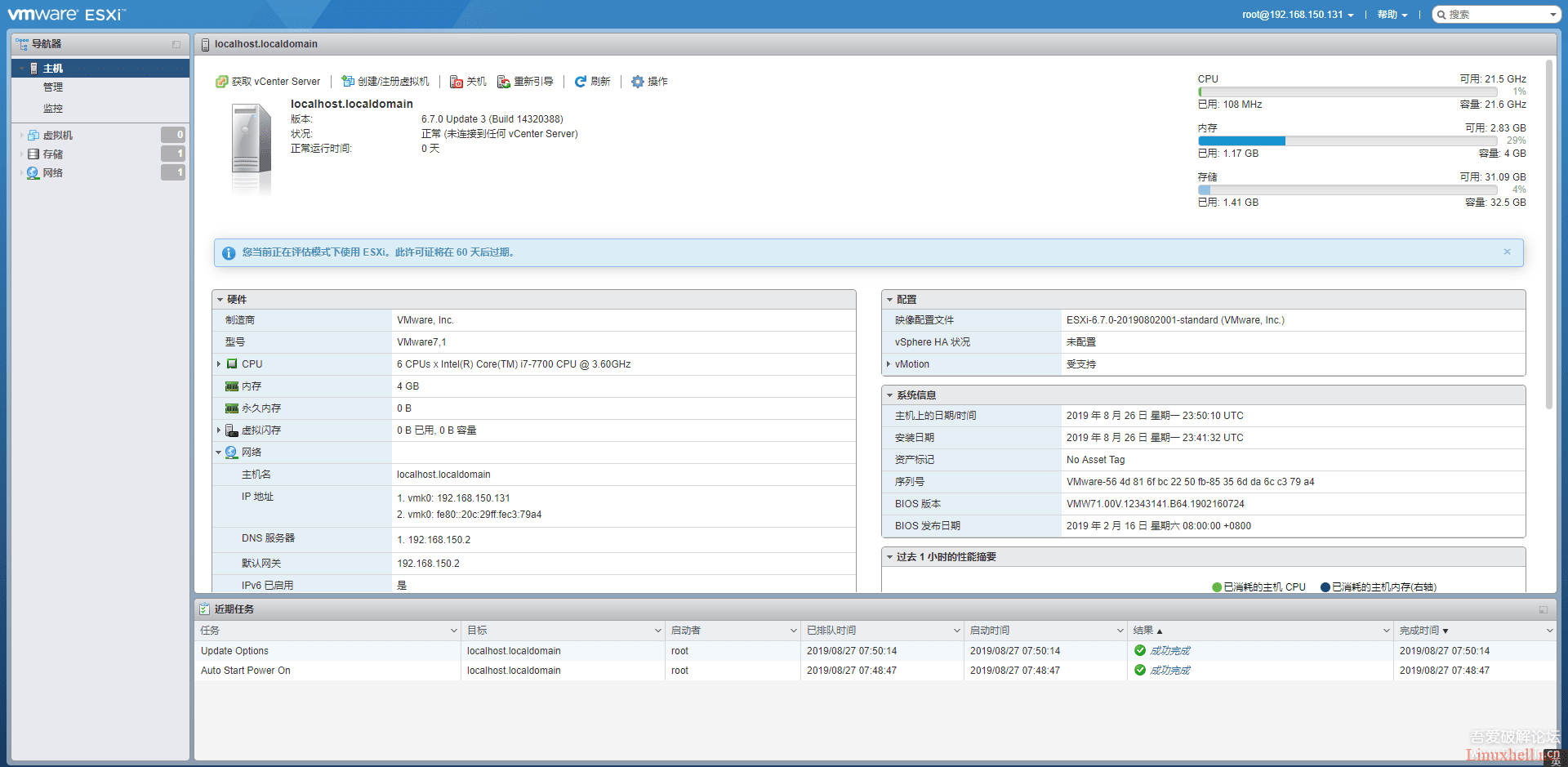 VMware vSphere Hypervisor (ESXi) 6.7 U3 下载
http://dl1.technet24.ir/Downloads/Software/VMware/vCenter/67u3/VMware-VMvisor-Installer-6.7.0.update03-14320388.x86_64.iso
http://dl1.technet24.ir/Downloads/Software/VMware/vCenter/67u3/VMware-VCSA-all-6.7.0-14367737.iso
http://dl1.technet24.ir/Downloads/Software/VMware/vCenter/67u3/VMware-VIM-all-6.7.0-14367737.iso
http://dl1.technet24.ir/Downloads/Software/VMware/vCenter/67u3/VMware-vCenter-Server-Appliance-6.7.0.40000-14367737-updaterepo.zip
http://dl1.technet24.ir/Downloads/Software/VMware/vCenter/67u3/update-from-esxi6.7-6.7_update03.zip
升级步骤:
1. 关闭所有虚拟机
2. 主机》操作》进入维护模式
3. 主机》操作》服务》启用安全 Shell(SSH)
4. 下载官方升级档 update-from-esxi6.7-6.7_update03,并上传到 datastore1 根目录
5. 主机》操作》SSH 控制台
6. 输入密码
7. 输入 esxcli software vib install -d /vmfs/volumes/datastore1/update-from-esxi6.7-6.7_update03.zip 等待几分钟,等待升级完成,输入命令 reboot 重启即可。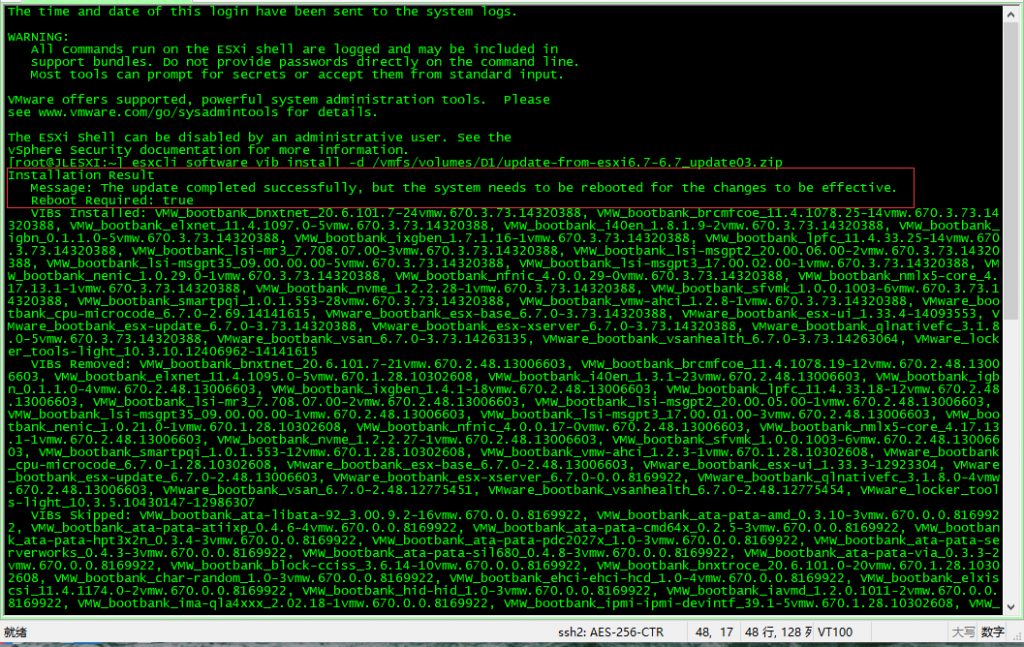 正文完